Hungry Hungry Hipsters! The game of eating the most pretentious food! Be careful though, the other hipsters will accuse you of being a poser and eating food that is too mainstream. Show them up proper by eating that mainstream food ironically, that will put a fedora in their yapper!
Type: Card Game
Standard Cards: 120
Players: 3-8
Ages: 13 and up
Playing Time: 10-30 min
Complexity: Easy
Released: 2012
Hungry Hungry Hipsters is a card game that is easy to play. Players take turns placing food items and then attach modifiers to their own and each other's food. Positive modifiers make the food more pretentious, and you a better hipster. Negative modifiers make the food too mainstream, and you into a bad hipster. Special cards show up in the deck to complicate your life. A fun and short game for those who like quick laughs and easy rules.
HUNGRY HUNGRY HIPSTERS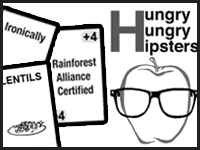 $25.00 – The complete boxed card game!